List and filter subscriptions
The Subscriptions view lists the existing subscriptions of the currently selected organization.
You can search for subscriptions, configure the list columns, filter the list of subscriptions, and view detailed subscription information once selecting it.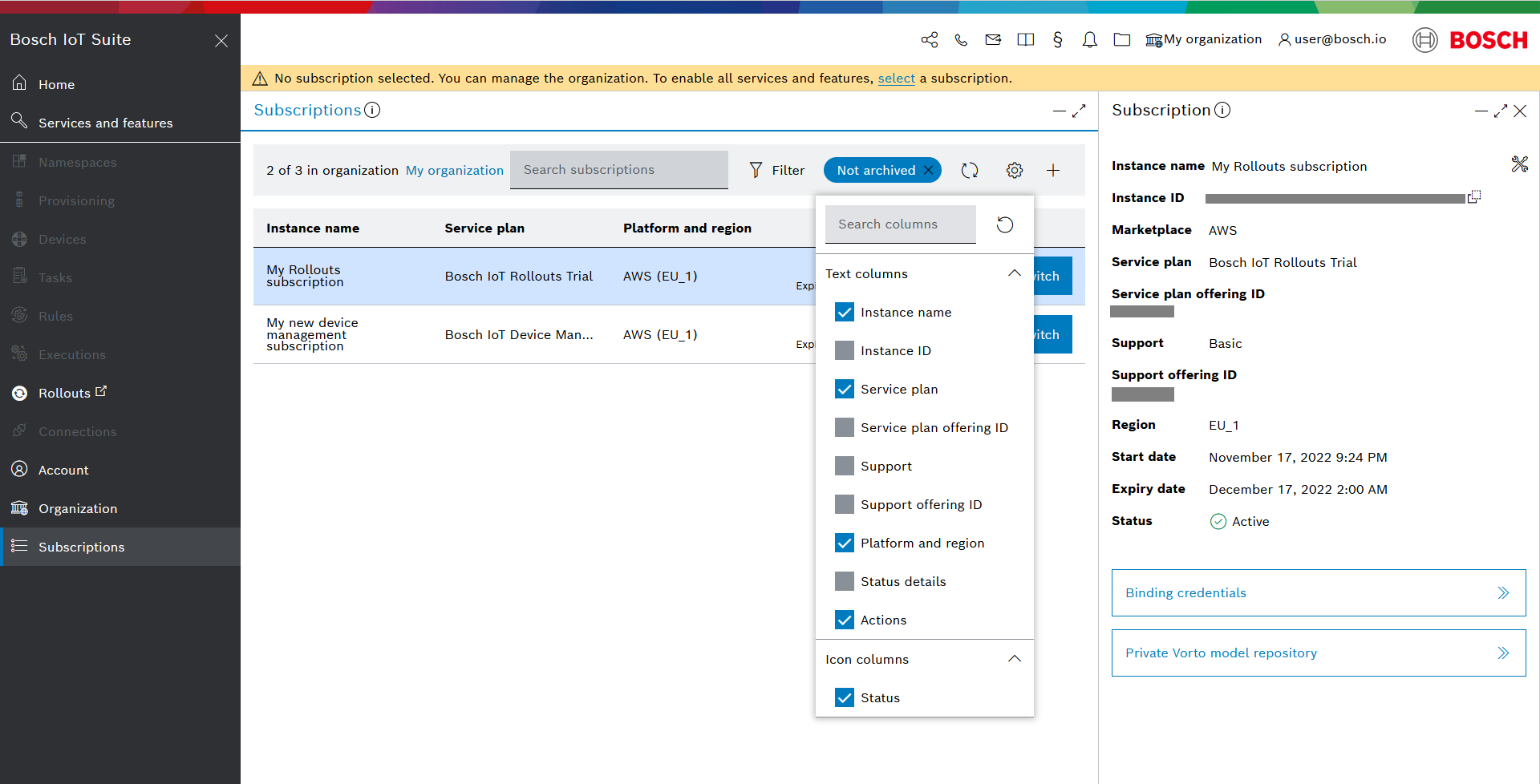 View subscription information
When you select a subscription, its details are displayed as part of the Subscription blade on the right(see screenshot above).
There you can view the:
Instance name

Instance ID (copy button available)

Marketplace

Service plan and offering ID

Support and offering ID

Region

Start Date

Expiry date

Status

Button for Binding credentials

Button for Private Vorto model repository
Binding credentials
Click the Binding credentials button to open a view from where you can copy all necessary credentials.
Usage and cost report
If you are using a paid subscription, you would also see an additional button called Usage and cost report, which would allow you to download such a report in either a PDF or JSON format. You can also choose the period that interests you.
Private Vorto model repository
The Private Vorto model repository button allows you to configure your private repository where you can store Vorto models.
For more information see Configure access to private Vorto repository.
Manage your subscription
You can also edit subscription information and terminate the subscription via the actions icon
on the top right.
The Edit action allows you to change the instance name.
The Terminate action allows you to terminate your subscription after you have confirmed your choice.
Switch subscription
The header bar offers a subscription view with a Switch subscription button.
It will open a dialogue where you can see a list of the available subscriptions within the organizations you are a member of, and you can also search through them.
Select the relevant subscription you would like to switch to, and confirm with Switch.